I don't know if you have ever had Paula Dean's Gooey Cakes but if you haven't try this one!! After all it is the pumpkin season!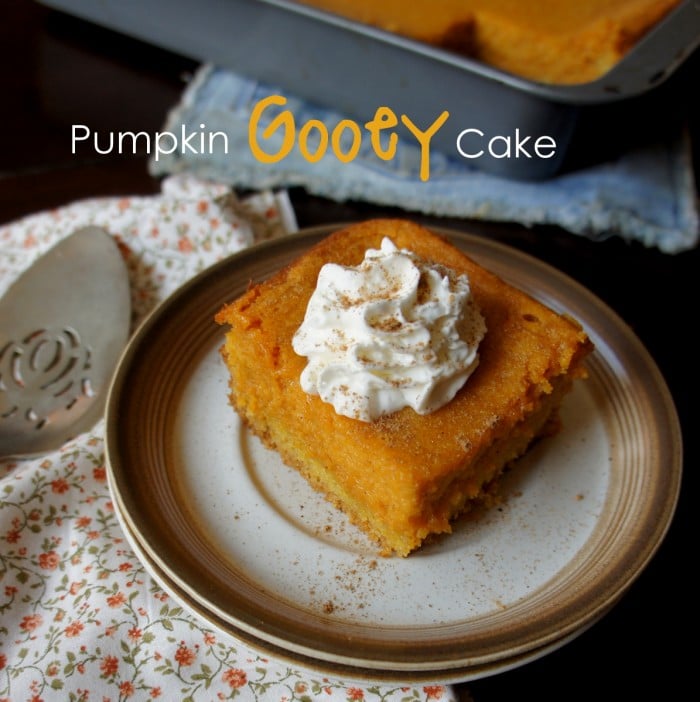 Ingredients
For the Crust:

1 box yellow cake mix
1 egg
1 stick (1/2 cup) melted butter

For the Cake:

8 oz cream cheese; room temp
1 (15oz can) pumpkin puree
1 stick (1/2 cup) melted butter
3 eggs
1 tsp vanilla extract
2 tsp pumpkin pie spice
16 oz box of Powdered Sugar
Whip Cream (optional)
Instructions
Preheat oven to 350 degrees F.
In a medium bowl combine cake mix, egg and 1/2 cup melted butter with a wooden spoon until a soft dough forms. Press evenly into the bottom of a 9x13" cake pan. Set aside.
In the bowl of your stand mixer, blend the cream cheese and pumpkin puree until smooth and combined. Be sure to scrap the sides down occasionally.
Add the melted butter, eggs, and vanilla and blend until combined again.
With the mixer running slowly add the pumpkin pie spice and gradually add the powdered sugar until completely blended.
Pour over the prepared crust.
Bake for 45-50 minutes or until the outer edges are set and the middle is still soft set. Don't let it firm up 100%, you still want it slightly gooey in the center.
Let cool to room temp and serve with whipped cream.
Enjoy.