Summer is wrapping up and we are giving a last blow out party before everyone departs for their winter life of schools, children's practices, and no time for dinner nights.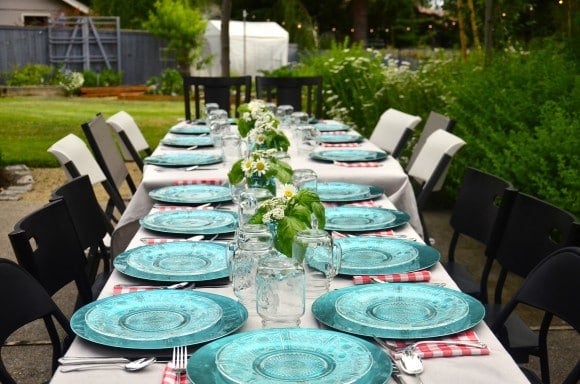 Using glass plates are a great idea. For Christmas Dinner I used glass plates with some really ugly chargers that I decoupaged with their pictures that I printed on regular paper. then they got to see themselves throughout the year and remember the events. It a source of hours of conversations and giggles.
Summer dressing
http://media-cache-ak0.pinimg.com/736x/92/7c/e3/927ce36fb38eaa56dea4757802e02d78.jpg
Have a beer and sit around the firepit enjoying the summer breezes. All too soon, at least on the shores of Lake Erie, our evenings will be held inside around the TV.
Our music is of the cicadas chirping and the children's laughter. It is a serene setting with family and friends. Enjoy.