Does your baby have everything? Are you sure? Well, I bet he or she doesn't have one of these.
A $5,200 pink Swarovski crystal-encrusted baby

bathtub.
This was given to Blue Ivy by Kelly Rowan.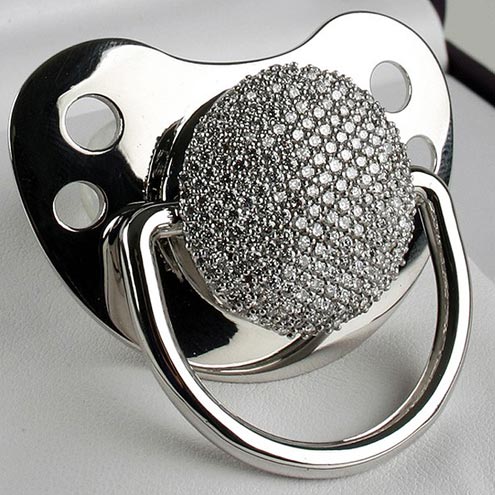 I'm not really sure to say about this gift. I certainly hope that this is an accessory for the nursery.
but this is what I really wanted to post and I went off on a tangent. I do that always.
Here are some great children's rooms from HGTV.
A Pirate's Life
This pirate-inspired room has everything necessary to set a course for adventure — from a treasure map mural to a rustic pirate-ship bed. Design by RMSer chelly32
Fit for Twin Royalty
These twin cribs look like they came straight out of a fairytale palace. The ornate wood details and elegantly draped canopies put other cribs to shame. Image courtesy of PoshTots
Private Pink Lofts
Sharing a room with a sibling can be a drag. But these vibrant pink and orange loft beds give two girls their own getaways. Courtesy of Nicole Feliciano, of Momtrends.com
Movie Magic
Inspired by the Disney film Finding Nemo, this room surrounds kids in a sea of beloved characters. It even includes a bed that resembles the film's surfer-dude turtle, Crush.
Now, this a room that I would love to have. Just make them King Sized Bunk Beds.
Make Room for Muppets
This kids bedroom from HGTV Dream Home 2014 is inspired by the Muppets. While sticking to a sophisticated color palette of red, white and black, this room bursts with kid-approved details like Muppets accessories, a curtained-off play area and a TV for each bunk!
Storybook Nursery
With a crib modeled after a carriage, this storybook nursery is perfect for a princess-in-training. The room includes other charming touches like wallpaper with a toy block motif, quilted carpeting and an adorable woodland mural. Image courtesy of PoshTots
To sleep, perchance to dream-Shakespeare.